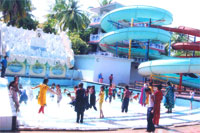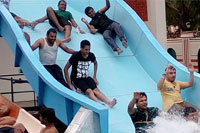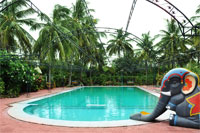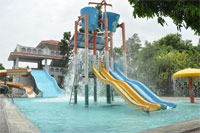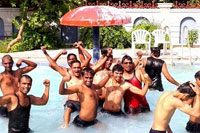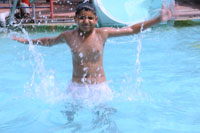 ---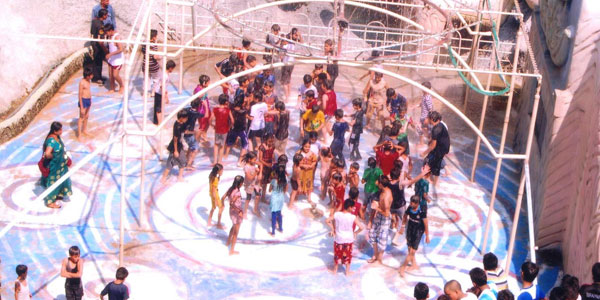 Rain Dance
Haven't you always wanted to dance in the rain, well then we have the best attraction for you with our rain dance. Imagine thumping loud music and water sprinklers splashing water from all corners, soaking you in water and fun. Get ready to burn the dance floor at Srinidhi Resorts rain dance facility.
Rain dance at Srinidhi resorts is exclusive and is setup creatively resembling a cave, and will give you a different experience everyone needs to have.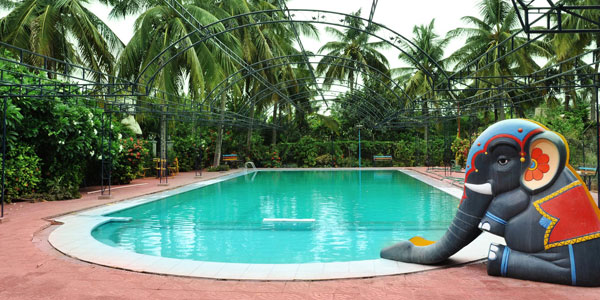 Swimming Pool
The swimming pool invites the guests of all ages to leisurely dip into its safe, user-friendly depth starting from 2 feet to 9 feet. So while even toddlers can take their first swimming lessons here under the keen eye of Mom and Dad, Grandma and Grandpa can also enjoy a safe splash or two here. To put it simple, once you are here you would want to spend hours together-splashing.
Water Slides
Whirl Wind
A float slide with twists and turns and drops giving you joy of riding on an Open Float. The smiles return in a matter of seconds as you slide down the ride and reach the massive pool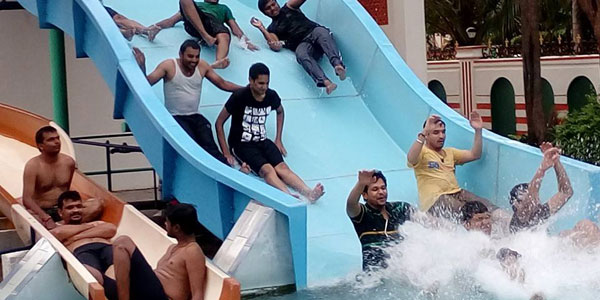 Water Slides
Torpedo
This ride provides greater entertainment value. It is a fun filled place for people of all ages. This Body Ride sweeps the riders off their feet as they plunge into splash of water.
Water Bucket Kids Polo
Getting Closer, Safer
There's the play pool in which people of all ages can splurge and frolic. These pools have mushroom sprayers and water bucket splash that douse you with water from all directions. There are mini family slide and spiral slides that children's can scramble up and down, two water buckets that empties itself when full and little slides that even tiny tots can play with.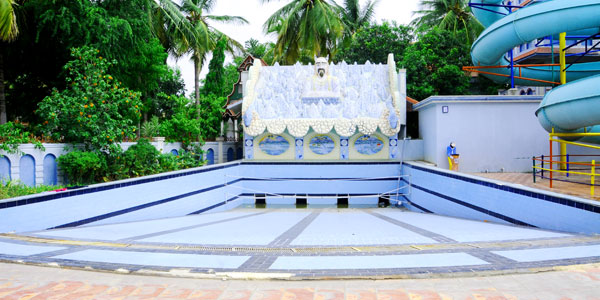 Wave Pool
Here is nothing like playing with waves of water but to travel to a beach for the waves is quite the tough thing so Srinidhi brings to you Fun waves. Waves will push and pull you to the shore and is complete entertainment for the family. It's the perfect place to kick back and enjoy the clear waves under the watchful eye of lifeguard. Imagine enjoying beach-like water wave in hamara Hyderabad's weather.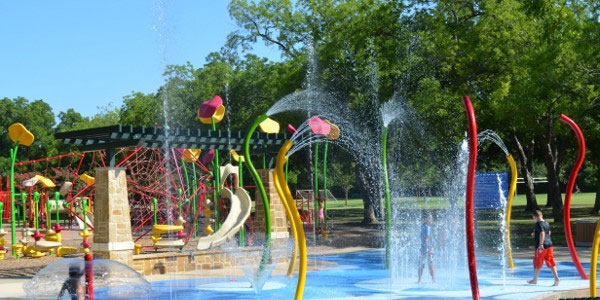 Upcoming - Splash Deck
Zero- Entry Pool
We are coming up with a huge zone just for little ones who are seeking some adventures. Designed especially for kids, our kiddy pool is going to have child-friendly water slides which will also include 3we miniature versions of our larger thrill slides so the kids can also enjoy.